Feedback for Modern Pregnancy Exercise
We have just finished a 3mth slog with 5 wonderful trainers from all over Australia and New Zealand. The participants embarked on their journey mid-Feb, and completed two weeks of online learning before we did our first live session in early March. We spent an hour together every week, in between which they had more online learning, and practical tasks to complete and send through. Once we had completed our 6 modules, they had another 4 weeks to tie up some loose ends.
Those that didn't finish the course will come back with our next intake that starts on the 3rd June.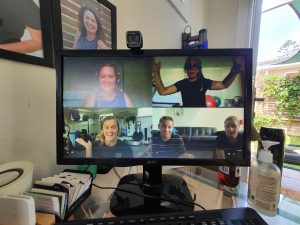 Routinely, i ask for feedback at the end of this process, and this is what i received from one of our participants today:
"…Feedback on the course – I loved it, I loved how the focus is on functional movement and lifestyle, and I love the Kegal Continuum. My business partner did a pregnancy course last year through a different group and from our conversations I learned a lot more and she really liked learning the Kegal Continuum from me too. You're an awesome teacher, I love your style and how you deliver your classes, it's a no bullshit approach that comes across as very genuine in the goal of simply wanting pregnant women to be healthy and function well. I got a lot more out of it than I thought I would, I was expecting just to learn about contraindications to exercise and how to modify but I came out with a much wider and more holistic idea of how to train during pregnancy. I'm so glad I chose this course and I'd recommend it to anyone, so thank you!…"
Needless to say, it made my day. The course is a big endeavour for anyone who wants thorough, whole-health style education that will lift their business, as well as make their work with women so much more meaningful and effective! It is so exciting to send a trainer away with these tools, knowing that they're changing lives from day 1, and that their pregnant and post natal clients are in safe hands.
THANK YOU, Sarah (or Kevin – inside joke!)